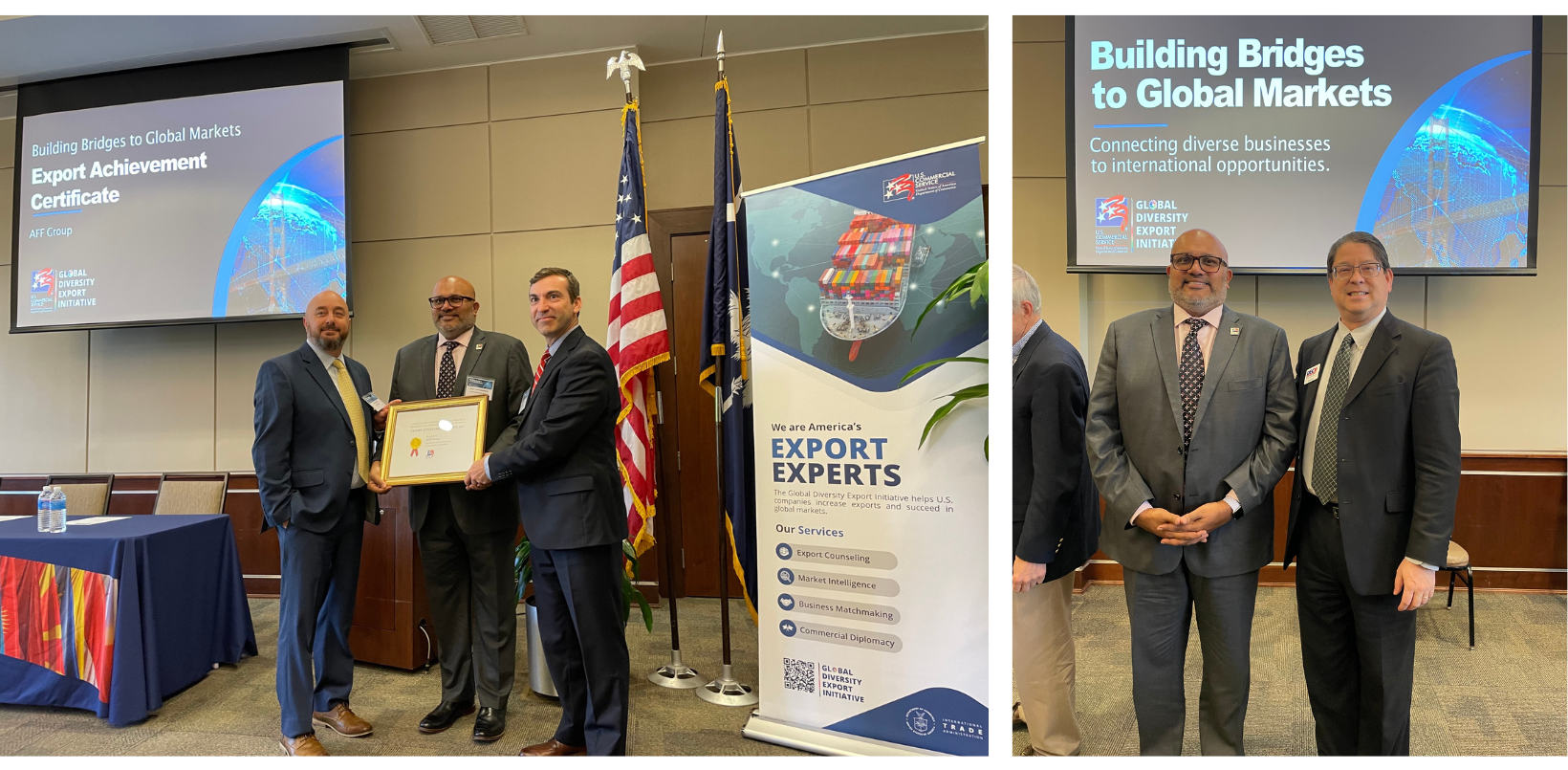 by Cherish Benton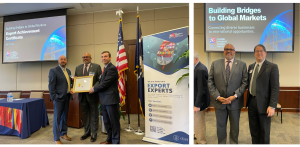 The Kim, Lahey & Killough Law Firm congratulates the AFF Group, formerly known as the American Foam & Fabric Company, for being honored with the Export Achievement Award from the U.S. Department of Commerce. This prestigious award recognizes the outstanding achievements of U.S. companies in the international market and their contributions to expanding U.S. exports.
The announcement was made in April during the International Trade Administration U.S. Commercial Service's Building Bridges to Global Markets event in Greer, SC. This regional event included included the South Carolina District Export Council and special guest Arun Venkataraman, who is the Assistant Secretary of Commerce for Global Markets, and Director General of the U.S. and Foreign Commercial Service.
Kim Lahey & Killough's founding attorney Doug Kim serves on the SC District Export Council. He remarked, "It's a pleasure to see clients recognized for their success. This well-deserved recognition is a testament to AFF's efforts to expand their market and business reach internationally."
The AFF Group has been a leading provider of high-quality foam and fabric products for over 60 years. The company operates several manufacturing facilities in the United States, including its headquarters in Lyman. Over the years, the company has developed a reputation for excellence in product quality and customer service.
In recent years, AFF Group has expanded its business into international markets, exporting its products to countries all over the world. The company's success in the international market is a testament to its commitment to innovation, quality, and customer satisfaction.
AFF Group CEO Ben Leinster commented, "We are incredibly honored to be recognized by the U.S. Department of Commerce for the Export Achievement Award. Whether deciding which foreign markets to pursue or coordinating logistics of a trip, we are grateful for the assistance of the partnership with the U.S. Department of Commerce and the SC District Export Council."
In addition to AFF, Greenville-based IT company Blue Eye Soft was also recognized with an Export Achievement Award. The U.S. Department of Commerce's International Trade Administration (ITA) presents the Export Achievement Award to companies that have demonstrated a commitment to exporting and increasing their international sales. The award recognizes companies that have shown exceptional progress in expanding their exports or penetrating new markets.
The ITA plays an important role in promoting U.S. exports and supporting U.S. companies in the international market. The agency works with U.S. businesses to identify new export opportunities, provide market intelligence, and develop export strategies. The ITA also provides technical assistance and funding to help companies expand their international sales.