Upcoming Webinar – Protecting IP Overseas: USPTO Trade Attaché Program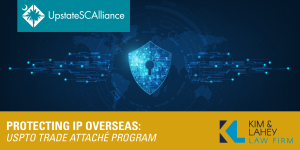 Did you know the U.S. Patent & Trademark Office (USPTO) offers services and information to U.S. companies entering foreign markets or conducting business abroad?
Join Upstate SC Alliance and Kim & Lahey Law Firm to hear from USPTO representatives Elizabeth Dougherty, Cynthia Henderson, and Dominic Keating. Dominic will provide an overview of the USPTO IP Attaché Program including the history of the program, locations, and services provided. Cynthia will discuss her work in Mexico City and the issues she encounters in the region, including how she assists U.S. companies on specific intellectual property issues, her training and outreach programs to raise awareness, and her experience raising issues with foreign government officials throughout the region.
Following their presentations, attendees can participate in a discussion moderated by Kim & Lahey Law Firm Founder & Attorney Doug Kim.
When: Wednesday, November 10, 2021 | 10:00 – 11:00 a.m.
Where:  Anywhere you'd like! Check your confirmation email for the Zoom link.
Register Here
Please RSVP by Monday, November 8th to save your spot.
Latest Posts
by Cherish Benton
The Kim, Lahey & Killough Law Firm is pleased to announce five of our attorneys are listed in The Best Lawyers in America® 2024 edition, including four...
by Cherish Benton
From left: Robert Merting, Casey Martens, Hunter Freeman, Doug Kim, Seann Lahey, B.C. Killough Six Kim, Lahey & Killough attorneys have been named...
by Cherish Benton
Plan sets priorities that enable the agency's new mission and vision WASHINGTON, DC (June 7, 2023) — The U.S. Patent and Trademark Office (USPTO) today...