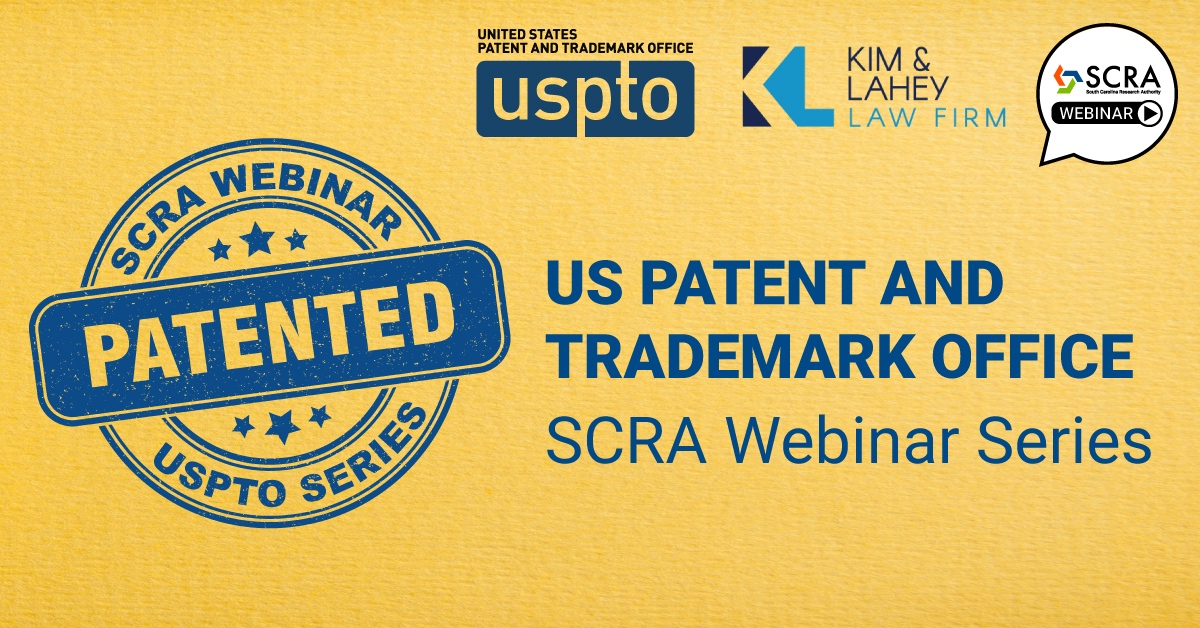 by Kim, Lahey & Killough Law Firm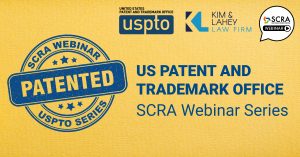 Hear from national experts during this five-part webinar series. You will learn everything from the basics of intellectual property, including trademarks, patents and copyrights, to how to protect your inventions using the claims process. Session titles include: The Path to a Patent, IP basics, patent searching, drafting a patent application, and drafting patent claims.
The Path to a Patent, Part I: IP Basics
June 8, Presenter: Elizabeth Dougherty, USPTO

Elizabeth discussed intellectual property basics during this interactive virtual session. In this module, she provided a brief overview of the different types of IP (patents, trademarks, trade secrets, and copyrights). She reviewed the patenting process from invention to application to issue. Finally, she covered requirements for patentability, how to determine whether a provisional or non-provisional application is right for you, and how to weigh the costs and benefits of hiring a patent attorney.
The Path to a Patent, Part II: Patent Searching
July 8, Presenter: Cynthia Sdrewski, USPTO

Before you file your patent application, you need to conduct a prior art search. At this virtual presentation, you will learn about the benefits of searching, how to perform a prior art search using keywords and the Cooperative Patent Classification (CPC) system, and how to build a search strategy. We will also provide resources for filing your application.
The Path to a Patent, Part III: Drafting a Patent Application 101
July 21, Presenters: William Vaughn, USPTO, and Attorney Doug Kim

Learn how to prepare for a patent during this interactive workshop. USPTO experts and Attorney Doug Kim will share insights on the formalities and requirements of drafting a patent application, as well as common pitfalls to avoid. For example, when do you know you're ready to apply for a patent? How do you prepare and what questions should you ask an attorney? Join us for the answers and to learn about state and regional patent pro bono programs that offer financial aid for inventors.
The Path to a Patent, Part IV: Learn How to Draft Patent Claims
Wednesday, August 4 @11:00am, Presenters: Stephen Yanchuk, USPTO and Attorney Doug Kim

Claim drafting may be the most important part of protecting your invention. How do claims work in the courtroom? Why do they matter? Learn the basics of claim drafting from USPTO Primary Patent Examiners and Attorney Doug Kim in this interactive workshop. You will develop a better appreciation of how a patent examiner views a claim during the course of examination. We'll also cover some of the latest infringement cases involving big-name brands and discuss how wording in their claims may have affected outcomes.
The Path to a Patent, Part V: Electronic filing in DOCX using Patent Center
Thursday, August 19 @11:00am, Presenter Kimberly Williams

DOCX is a word processing file format based on open standards, including Extensible Markup Language (XML) that is supported by many popular word processing applications, such as Microsoft Word, Google Docs, Office Online, Pages for Mac, and LibreOffice. As an open standard format, DOCX offers a safe and stable basis for authoring and processing intellectual property documents. Uploading a multi-section document in DOCX format containing the specification, claims abstract and drawings is detected and split into single files for each section and document codes are automatically assigned, which saves initial processing time. A feedback document is generated pre-submission where warnings and errors are pinpointed in a copy of the uploaded document in real time, which reduces time responding to non-compliant notices and enhances the quality of examination.