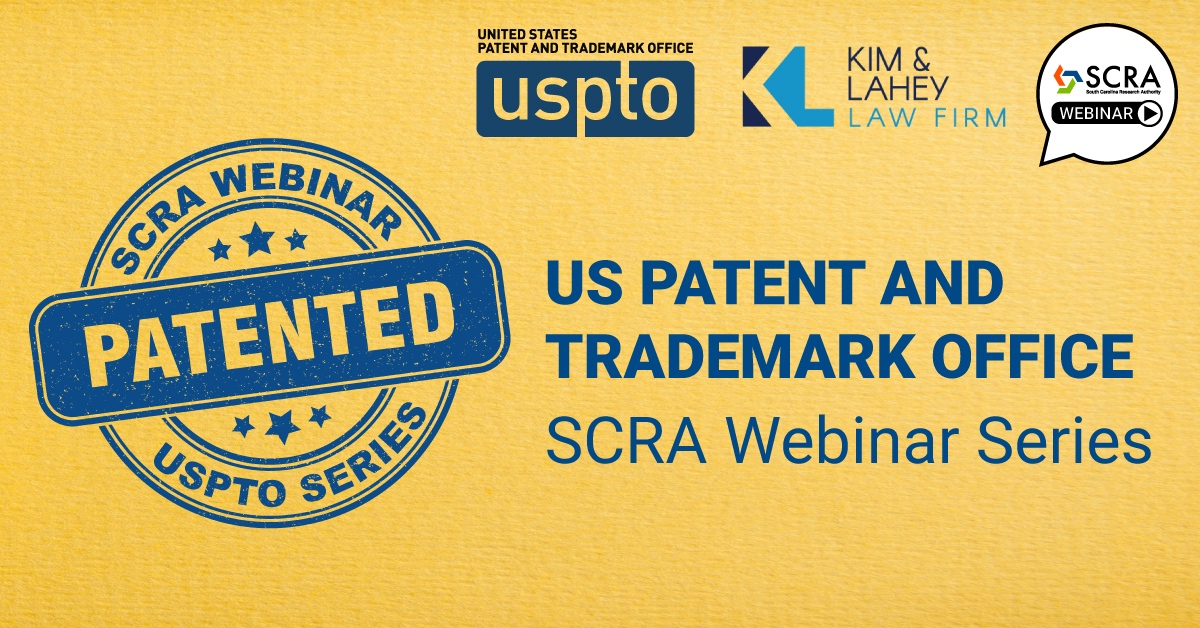 by Kim, Lahey & Killough Law Firm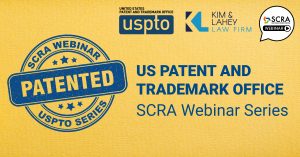 Hear from national experts during this five-part webinar series. You will learn everything from the basics of intellectual property, including trademarks, patents and copyrights, to how to protect your inventions using the claims process. Session titles include: The Path to a Patent, IP basics, patent searching, drafting a patent application, and drafting patent claims.
The Path to a Patent, Part I: IP Basics
June 8, Presenter: Elizabeth Dougherty, USPTO

Elizabeth discussed intellectual property basics during this interactive virtual session. In this module, she provided a brief overview of the different types of IP (patents, trademarks, trade secrets, and copyrights). She reviewed the patenting process from invention to application to issue. Finally, she covered requirements for patentability, how to determine whether a provisional or non-provisional application is right for you, and how to weigh the costs and benefits of hiring a patent attorney.
The Path to a Patent, Part II: Patent Searching
July 8, Presenter: Cynthia Sdrewski, USPTO

Before you file your patent application, you need to conduct a prior art search. At this virtual presentation, you will learn about the benefits of searching, how to perform a prior art search using keywords and the Cooperative Patent Classification (CPC) system, and how to build a search strategy. We will also provide resources for filing your application.
The Path to a Patent, Part III: Drafting a Patent Application 101
July 21, Presenters: William Vaughn, USPTO, and Attorney Doug Kim

Learn how to prepare for a patent during this interactive workshop. USPTO experts and Attorney Doug Kim will share insights on the formalities and requirements of drafting a patent application, as well as common pitfalls to avoid. For example, when do you know you're ready to apply for a patent? How do you prepare and what questions should you ask an attorney? Join us for the answers and to learn about state and regional patent pro bono programs that offer financial aid for inventors.
The Path to a Patent, Part IV: Learn How to Draft Patent Claims
Wednesday, August 4 @11:00am, Presenters: Stephen Yanchuk, USPTO and Attorney Doug Kim

Claim drafting may be the most important part of protecting your invention. How do claims work in the courtroom? Why do they matter? Learn the basics of claim drafting from USPTO Primary Patent Examiners and Attorney Doug Kim in this interactive workshop. You will develop a better appreciation of how a patent examiner views a claim during the course of examination. We'll also cover some of the latest infringement cases involving big-name brands and discuss how wording in their claims may have affected outcomes.
The Path to a Patent, Part V: Electronic filing in DOCX using Patent Center
Thursday, August 19 @11:00am, Presenter Kimberly Williams

DOCX is a word processing file format based on open standards, including Extensible Markup Language (XML) that is supported by many popular word processing applications, such as Microsoft Word, Google Docs, Office Online, Pages for Mac, and LibreOffice. As an open standard format, DOCX offers a safe and stable basis for authoring and processing intellectual property documents. Uploading a multi-section document in DOCX format containing the specification, claims abstract and drawings is detected and split into single files for each section and document codes are automatically assigned, which saves initial processing time. A feedback document is generated pre-submission where warnings and errors are pinpointed in a copy of the uploaded document in real time, which reduces time responding to non-compliant notices and enhances the quality of examination.
by Kim, Lahey & Killough Law Firm
Like many young people, Logan LaMance had a decision to make his freshman year in college. He could continue focusing on freedom and fun or get serious and shoot for the stars. He chose the latter and it paid off. This Sunday, Logan and his partners at Kanga, LLC, will appear on Shark Tank. Their pitch? Kanga's Kase Mate is described as a "koozie for a case of beer." Their marketing slogan is, "Kooler than a cooler and keeps drinks cold for up to 7 hours without ice." You get the point, but how did they get to this point?
Logan was born and raised in Pickens, SC. He started taking classes at Clemson during fall 2014. Logan says it was the end of that first semester when he realized he needed a change in direction. The following semester he was part of an internship program lead by Young Entrepreneurs Across America, that teaches students how to start and run a business. It was a house painting business called Student Painters, LLC.
Logan worked harder over the next two years than he ever had before in his life. He put in between 30 – 40 hours per week on school work and every other waking moment was spent on his business. Logan said it was a tough place to be, both mentally and physically taxing, but he was driven and had a dream. He says, "The thing I am the proudest of is not that I brought the biggest business or made the most money, but that I fought through it, never quit and learned a lot of valuable lessons along the way."
That's when he caught the bug. After running a grueling, yet successful painting business with other students for two years, he was sick and tired of paint brushes, but he knew he wanted to be an entrepreneur. During the spring of 2017, Logan took an entrepreneur class that would change his life. The class project was to create a solution for a problem that people face. Logan says finding a good idea wasn't easy.
Then came football season. Logan and his friends were on their way to tailgate. They stopped to grab a couple 12-packs on the way. They all had coolers back at their apartments, but they didn't want the hassle of carrying a heavy, clunky cooler a mile from home to the tailgate and back, which meant they ended up drinking warm beer before long. Logan thought to himself, "Why are we drinking warm beer? That's a problem." He had to find the solution next.
Logan says he saw someone take a cold beer out of a cooler and put it into a koozie and that's when it hit him. Logan wondered, "Why don't we have the same thing for the whole case? We got it from the fridge (what made it cold), why don't we have something to put it in to keep it cold for the whole time we're actually going to enjoy it?"
That's how Kanga was born. He pitched the idea to his class and convinced them it was bigger than a class project. They created a prototype and worked with mentors through the Spiro Institute to take their idea and turn it into a business.
Doug Kim, Kanga's intellectual property attorney of the Kim and Lahey Law Firm, says, "I met the owners of Kanga, LLC through my work with the Clemson Venture Program and was immediately impressed with their inventions, marketing acumen and business decisions. To see these business owners accomplish so much while also attending college, should be inspiring for everyone."
Kanga started with a short run of 100 units to test the market and see if people would actually buy it, and they did. From there, Kanga won a first-place prize of $8,000 at Clemson's "The Pitch Smackdown," which Logan describes as a mini shark tank where they also picked up their first investor.
Fast forward to when Kanga had a successful Kickstarter campaign in 2018, and now, as they're only two days away from appearing on the real Shark Tank on ABC. Logan says, "If we can do it with a koozie for a case of beer, image what other ideas can do."
The Shark Tank episode airs at 10pm EST, Sunday, April 7.
This article is for informational purposes only. Any result achieved for one client does not necessarily indicate that similar results can be achieved for any other client. Kim and Lahey Law Firm, LLC has designated Douglas W. Kim as the person to contact for information regarding this article. He may be contacted at 864-973-6688 or at doug@kimandlahey.com.