by Kim, Lahey & Killough Law Firm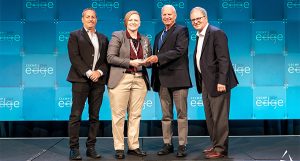 You've heard of SEO. How about SCO? It stands for Shipping Cost Optimization, a patent pending method of using artificial intelligence to slash shipping costs. This homegrown innovation, called IntelliPack, has thrust local entrepreneur, John Peck, CEO, President, & Co-Founder of FastFetch Corporation into the national spotlight.
Peck joined Katie Neau, RCI Supervisor of Snap-on Tools at the Council of Supply Chain Management Professionals' (CSCMP) EDGE 2019 Conference on September 18, 2019, in Anaheim, California, for their presentation about "Using Artificial Intelligence to Slash Shipping Costs." They beat out Silicon Valley giant Intel Corporation, as the winners of the 2019 Supply Chain Innovation Award (SCIA) .
Snap-on Tools is saving 11% annually on total shipping costs at its distribution center in Crystal Lake, IL. The initiative employs artificial intelligence to minimize wasted space in shipping cartons as well as new logistical processes to cut corrugated material costs by 20%, dunnage costs by 27% and packing labor costs by 30%. Peck says companies like Snap-on Tools often save an average of $18,000 per month on small parcel carrier shipping costs using his patent pending packing process.
It took Peck about six months to develop the new method. He says, "You have to be able to calculate the best box size for shipping an unpredictable collection of items of given sizes in less than a second. When someone orders online, that one order may have eight to 10 things in it. Each comes in different shapes and sizes and there are more than 100 boxes to choose from. Using the right size box is important."
Doug Kim represents FastFetch. He says, "Because it's our job to help with intellectual property protection, we get to see these inventions very early on. It's exciting to see our clients be successful, to see an idea go from conception to commercialization."
Peck's method of using A.I. to slash shipping costs can virtually figure out how to place the items in the best sized box. "It's going to make e-commerce affordable," says Peck. "Consumers want free shipping, but someone has to pay for it. Our method ensures there is minimal wasted space. Smaller boxes means more packages can fit in each shipment. Instead of needing multiple trips, using multiple trucks or airplanes, now more can fit into each trip and that will help shipping companies become more efficient too."
Congratulations to the entire FastFetch team! Watch the video below to see SCO in action.