by Cherish Benton
As a sponsor of the InnoVision Awards organization, the Kim, Lahey & Killough Law Firm is proud to share the news about this year's winners. Application and nominations opened this past spring the organization received almost 100 nominations and applications. These submissions showcased innovations across the state in a variety of industries including mental health, construction, medicine, educational programming, and much more. The selected panel of judges reviewed each application and scored the organizations that provided the 2023 finalists and winners for six of their eight awards. The Charles Townes Individual Achievement Award and Dr. Janajreh Ibrahim Young Innovator Award were carefully considered and voted on by the InnoVision Awards Board of Directors, which includes Attorney Hunter Freeman. These organizations were recognized during the in-person celebration on November 9th in Columbia, South Carolina.
The Dr. Charles Townes Individual Achievement Award – Sponsored by Kyocera AVX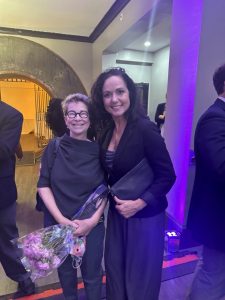 The highest honor awarded by the InnoVision Advisory Board and Judges panel is the Dr. Charles Townes Individual Achievement Award. The award is named in memory of Dr. Charles Townes, a Greenville, South Carolina native and Furman University graduate. He was awarded the Nobel Prize in Physics in 1964 and the Templeton Prize in 2005. Dr. Townes is the only person other than the Dalai Lama and Mother Teresa to win both a Nobel Prize and a Templeton Prize. The Dr. Charles Townes Individual Lifetime Achievement Award honors an individual who has exhibited a sustained commitment to the advancement of technology and the community through their technology-oriented and innovative contributions. Such contributions may be business, civic, and/or educational and must benefit the State of South Carolina.
The Dr. Charles Townes Individual Achievement Award winner this year is Amy Robichaud. Amy and her leadership helped push innovation in the Palmetto State and provided a spotlight for innovators. She was one of the founding members of InnoVision Awards which is celebrating its 25th anniversary this year. Amy's work gave recognition and awareness to innovations, and collaborations with organizations across the state, and helped foster an innovation ecosystem that is thriving today. Amy Robichaud is the backbone of the InnoVision Awards and one of the rare individuals who can do it all.
The Ibrahim Janajreh Young Innovators Award – Sponsored by Designli
The award is named in honor of the memory and ideals of Dr. Ibrahim Janajreh. A brilliant scientist and unique individual, Dr. Janajreh was an important part of Michelin for more than 15 years, served on the InnoVision Advisory Board of Directors for three years, and received an InnoVision Award in 2000. The Ibrahim Janajreh Young Innovator Award was established in 2005 to recognize successful South Carolina programs that engage, encourage, and acknowledge young people in the areas of science, technology, math, and innovation.
The Young Innovators Award winners this year are Sean Powers and Brett Nilsen from Copyt. Copyt is a platform for sneaker resellers to easily connect, manage inventory, and act as a sales channel automation. Individuals can list sneakers on multiple platforms and manage listings through Copyt. Sean and Brett found difficulty keeping up with multiple platforms as missteps can hurt a seller's reputation and lead to cancellation fees, this caused the creation of the company.
Technology Development Award – Sponsored by SCTech
The InnoVision Technology Development Award recognizes a company or organization for the development of a new or improved technology. The focus of this award is on the novelty of the technology and the challenge associated with developing it. The technology may be part of a new or existing product, process, or service that is intended for sale to customers or use inside the organization.
The 2023 Technology Development Award winner is Pensievision. Pensievision is developing 3D modeling technology which can be applied in various healthcare applications. One imaging device, CervImage, is helping diagnose cervical cancer which is extremely common but treatable if caught early. The device produces high-resolution 3D images of the area for early detection and analysis of legions. This method provides the true shape and size which assists with accurate diagnoses. Pensievision's goal is to spread this technology and save countless lives. There were two other finalists for the award, GlycoPath and Kiyatec. Gylcopath is using biomarkers, the Glycotyper Assay, for early disease detection and progression. Kiyatec is a cancer diagnostic company that will test patient cells to find which chemotherapy treatment will react best.
Technology Application Award – Sponsored by SCRA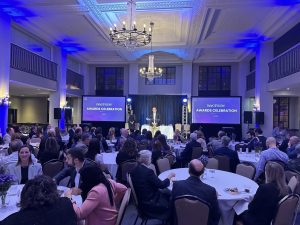 The InnoVision Technology Application Award recognizes a company or organization for the innovative application of an existing technology. The focus of this award is on how an existing technology is applied to create new value. The technology may be applied to a product, process, or service that is intended for sale to customers or use inside of the organization.
The 2023 Technology Application Award winner is SpheroFill. SpheroFill repurposed defense technology to develop a platform for drug delivery. The molecules in the device vary in size depending on what drug is, this allows SpheroFill to release medicine at different times and amounts while having all products in one device. There is also an option for extended-release over hours, days, or weeks. There were two other finalists for the award, Builder Rocket and Zylö Therapeutics. Builder Rocket created a platform where home builders can choose every aspect of the home and a picture is created for the builders so all parties agree and make an easier building process. Zylö Therapeutics developed a sustained-release drug delivery system for topical administration to increase the rate of drug penetration and effectiveness.
Small Business Award – Sponsored by Robinson Ventures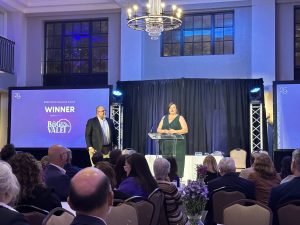 The InnoVision Small Business Award honors organizations for their creative technology development or innovative technology application. This innovation can be applied to a product, process, or service that will be sold to consumers or can be used inside a small business. Eligible awardees must employ fewer than 10 full-time employees and generate less than $5 million in revenue.
The 2023 Small Business Award winner is BagValet in Charleston. BagValet offers pickup, dropoff, and storage for bags during the time gaps between flights and accommodation check-in or check-out. Customers can request baggage pickup in as little as 30 minutes and items are stored with tamperproof locks for added security. This organization was founded by Amanda Sheridan as a solution to the 'Luggage Struggle' where tourists were dragging their bags on walking tours and around the city. BagValet has proven to be a success in Charleston and would like to scale nationally. There were two other finalists for the award, Maelstrom Propellers and Southeast IP Group. Maelstrom Propellers has created a safer and more effective propeller, the Eddy, which users can use less power to move through the water and reduces injuries. Southeast IP Group developed ANGEL, a drone rescue for distressed swimmers that will act as a floatation device to save lives.
Education Award – Sponsored by Contec
The InnoVision Education Award recognizes innovative approaches to education that create new educational opportunities and experiences for students, new methods of delivery, or improved quality and efficiency.
The 2023 Education Award winner is Notey. Notey is building an interactive education app to encourage music learning among children. The games on the platform will help motivate children to come back and learn their instrument. A vast majority of people with try an instrument and quit in a few weeks but Notey is working to make music learning a lifelong skill. There were two other finalists for the award, Converse University and Richland Two Institute of Innovation. Converse University is growing the Data Science program with a minor focusing on data visualization, ethics, coding, and broad applications, a general education course, and making partnerships in the area. Richland Two Institute of Innovation is individualizing instruction education for students to enjoy school and better retain information.
Sustainability Award – Sponsored by Velux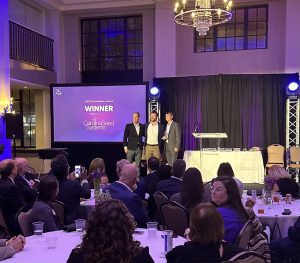 The InnoVision Sustainability Award recognizes an organization for an innovative approach to environmental stewardship. The focus of this award is on innovative technology, processes, and/or business models that promote the protection of the earth's natural resources including renewable energy, renewable materials, reduced energy consumption, or reduced waste.
The 2023 Sustainability Award winner is Carolina Seed Systems. Carolina Seed Systems is addressing the feed demand issue in the south as the animals here need more than the area can provide. The company uses existing sorghum and naturally manipulates the variation to create other strains for several uses. The company's product is helping other farmers meet their needs and reducing carbon emissions from traditional practices. There were two other finalists for the award, Gravity Driven Technologies and Living Carbon. Gravity Driven Technologies produce power by converting movement in a vehicle to electricity to address problems with the nation's power grid. Living Carbon is reducing carbon emissions through afforestation, reforestation, and revegetation efforts using Living Carbon Climate Smart Seedlings.
Community Service Award – Sponsored by Insperity
The InnoVision Community Service Award recognizes an organization for an innovation that improves the quality of life in South Carolina communities. The innovation may involve products, services, or processes that serve South Carolinians.
The 2023 Community Service Award winner is Open Broadband. Open Broadband recognizes the increased need for internet across the state and works to make it more accessible. The company aims to serve areas where the internet is not readily available or where other internet providers cannot reach. Open Broadband broadcasts a fiber optic network from an antenna that connects with receivers in homes. There were two other finalists for the award, Health Evolve Technologies and Just Bee. Health Evolve Technologies is closing the gaps in health disparities among women by creating an app to track progress and assessments to determine at-risk individuals. Just Bee created a social impact app that trains businesses how to understand and accommodate individuals with autism to make public spaces more accessible.